I'm not a happy man
Last month I had a computer failure where I had all my files stored. The files are still safe, but unobtainable at this time. -- My new computer has CD-ROM back-up ability and I am now using it. Loosing access to those files was an unhappy occurrence that I hope not to experience again. I expect to restore my files in a month or so and will post some additional photos then.
In the meantime, I have some very good links to Early TV web pages that you should enjoy. Some will lead you to still more pages. I'll comment on some of them, but check them all. Most of these pages were found using "Google" when I was researching my article.
Here is an early RCA produced TV picture of Felix the cat. I will add the Ham made photo as soon as I locate it. This is the approximate size of the TV picture my Pioneer brand scanning disk would produce.
Early TV Web Sites (make sure you hit the return button on your browser to return here.)
We'll start with the Early Television Foundation. The Early Television Foundation is dedicated to the preservation and restoration of television receiving and camera equipment from the early days of television. They have a great Museum that you might enjoy visiting. They are located near Columbus Ohio.
---
Television History - The First 75 Years -
Tom Genova's Television History Web Page.
Be prepared for hours of information.
---
In Japan, Kenjiro Takayanagi, who had dreamed of "wireless distance vision," which could reproduce a scene from far away, succeeded in displaying the Japanese character "

" on a Braun tube on December 25, 1926. Visit Kenjiro Takayanagi:
The Father of Japanese Television.
---
"When most people think of Boston's first television station, they think of WBZ-TV, which took to the airwaves in early June of 1948. But Boston was no stranger to television-- the history of this mass medium goes all the way back to the late 1920s, and a story which most people today (including the residents of the town where the pioneering experiments first took place) have probably never heard." Donna L. Halper. Visit Part 1:
HOW TELEVISION CAME TO BOSTON--
THE FORGOTTEN STORY OF W1XAY
by Donna L. Halper, Journalism Dept. Emerson College Boston MA.
Visit Part 2: Innovations in Mechanical TV.
---
Using Early and modern technology to produce television images. On Peter Yancer's web page, you can build a complete scanning disk TV, plus learn more of TV history. This site is intended for those of you with more than a passing interest in television history and the hardware that produced the images. Visit the various pages and see if they don't heighten your interest. You cannot imagine the thrill of your seeing an image form on an apparatus that you've put together yourself, after many hours of design and redesign, both mental and actual. This is never a simple endeavor and that is what makes it so special. It is my sincere hope that you will join us and experience this for yourself.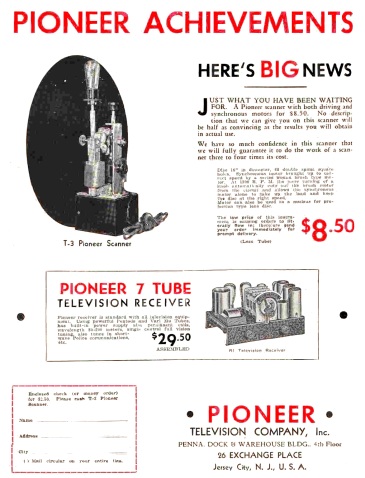 This is an advertisement for the Scanning Disk TV that I own. It is from a 1932 radio magazine. This ad is Courtesy of Tom Genova at Television History.
---
Bob Lozier, KD4HSH, has an interesting tale to tell.
"A true story - Back in May of 1978 I got a phone call from a guy who owns property a few blocks from my house... He told me that "old man Stack's" house was going to be torn down the following day and invited me to go over to the property and have a look around.... I could take just about anything I wanted from the sheds at the side of the house...."
Visit Bob's "Ancient" Television Pages to find out.
---
Commercial TV History
TELEVISION, an overview of Television History, with some lists of books about TV and some links.
---
Electronic TV Broadcasts Begins in 1929 with Felix the Cat! THE RCA and NBC EXPERIMENTAL TELEVISION PROJECTS. Also here is a great photo of an early TV picture. Also this link, their home page, points to other interesting RCA based history.
---
The Museum of Broadcast Communications in Chicago. This is a very commercial site with advertising. Never the less, it is interesting.
---
Another commercial site is The Radio Hall of Fame. It has been created to commemorate the giants of a medium that has permeated American society for most of the 20th century. Radio's power has always depended upon diverse talents and many kinds of genius.
---
That's about it for this month. Please let me know if you have any early TV equipment and what you're planningto do with it.
I hope to have mine running a demo, in the future, in my Old Radio Museum.