The rest of Dexter's collecting Bio.....
2) As a teenager I developed an interest in Rock en Roll to the horror of my parents. They-both played musical instruments in the community band and felt they knew good music. I guess this was the beginning of American corruption. I'm sure the Enron scandal can be traced back there. Anyway, one night, after a session of Frankie Lyman and the Teenagers and Little Richard my parents got fed up and forbade me to listen to Rock en Roll on the family radio. I pleaded with them to help me find an answer so I could continue to listen. There was a 1929 Airline console in the attic that was my parent's first electric radio. It had been saved for sentimental reasons and had not worked for years. As my bedroom was upstairs in our house, I said if the radio could be fixed, I could listen up there and not disturb anyone. My parents thought this was a good solution. They had another friend who lived in the next town who was the radio/TV repairman at Clarke Music Company in Syracuse, NY. They gave their friend a call and a few nights later they packed me and the radio in the car and paid a call. Their friend's name was Elsworth Phelps and he had a home repair shop in his garage. He asked me if I would like to learn how to repair my own radios. I said yes and he gave me a short electronics course while he fixed the radio that night.
When I left, he gave me a half dozen old radios to play with that he had hanging around his shop, a Supreme tube tester and Readrite voltmeter. He also included a couple of books on radio repair. That summer during school vacation, I learned how to repair radios, liked it and started to look for more to repair. I asked all the relatives if they had any old radios in their attics. My mother collected antiques and we were always going to second hand stores (now called antique shops). Often there were radios for sale. In the process I acquired a lot of battery radios which were the cheapest or for free as no one wanted them. There were not many radio collectors in those days. At that time Atwater Kent, Radiola and Crosley radios were everywhere. They must have had some sales force.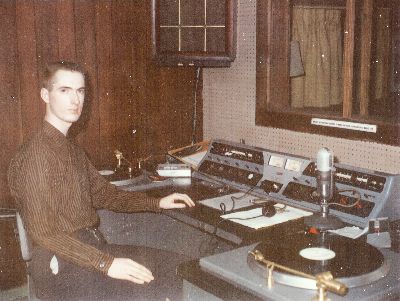 Disc Jockey Dexter in the early days.

Upon graduation from Syracuse University in 1963, I enlisted in the US Air Force and in 1964 was sent for a year to Thule, Greenland. There, I joined the Armed Forces Radio and Television Service and became a disc jockey on one of their two 1000w AM radio stations. Incidentally, they also had a TV station and a big MARS operation.

After leaving the Service, I joined Eastman Kodak Company in Rochester, NY in 1967.
There I met the salesman of all salesmen - Bruce Kelley, W2ICE. He told me he had started a radio museum on his property and invited me to see it. To say that it was impressive was to understate the situation. I had been collecting and repairing radios since high school and had a modest collection of battery sets but again had never seen anything like this. Bruce also had co-founded an organization called the Antique Wireless Association and indicated that he needed volunteers who knew something about radio to help him. He also was an avid ham and asked me if I had my license. I said no and he offered to help me.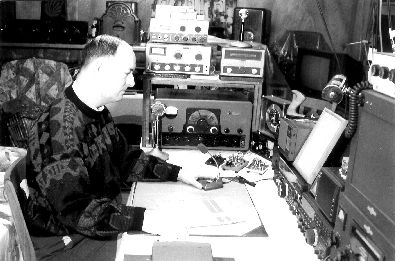 Dexter's Ham Shack
As it turned out, I volunteered to help at the AWA in various capacities for 30 years. During this time I went to hamfests and radio meets all over the country and in the process built up a sizeable radio collection.
Bruce Kelley helped me get my novice ticket in 1969 as WN2KQI. Due to my collecting and AWA work, I let my ticket lapse from 1971 until 1994 and then took the remaining amateur exams to become Amateur Extra as N2XYS.
I am a member of the AWA, member of the Tube Collectors Assocation, Life Member of the ARRL, Life Member of the QCWA, and a Member of the Radio Club of America.