This Year's AWA Conference is on August 22, 23, 24, 25
The theme of this year's (46th annual) conference will be "100 Years of Electronic Communications," with 2007 being the 100th Anniversary of the patent of the Deforest Audion. The dates for the conference are as follows, August 22, 23, 24, and 25, 2007. Early registration will be on Wednesday evening and the Flea market will open Thursday morning. The many seminars will be on Thursday and Friday. The Auction will be all day Saturday, with well-known radio Auctioneer Richard Estes at the gavel.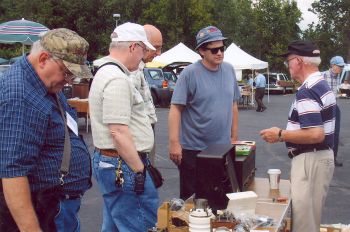 So why not plan something different this summer and take a few days off from work and attend. You will be rewarded by having a great time meeting and speaking with collectors like yourselves. You'll have the opportunity to pick up some new treasurers in the flea market or at the auction. You will be able to find those much needed parts to complete your restoration project from the many vendors attending. You will make new friends.
Bring your best restoration, home brew radio or rare radio item and enter it into the contest. I hope to see you there. I'm bringing a 1930 homebrew transmitter for the contest.
This year the AWA will waive the member's only rule, inviting you to attend without being a member. Of course you are invited to join if you wish and if you do, you will receive the The AWA Journal loaded with history and old equipment information four times a year. As collectors we all owe a lot to the AWA for building this hobby we all enjoy so much.
There are many motels and restaurants in the area, so finding a room should be fairly easy. Visit the AWA Web Page www.antiquewireless.org/otb/2007conf.htm for the Conference Program and motel information.