The Big Broadcast
Sunday is a big night at WFUV. That's when Rich Conaty spins classic jazz and pop tunes of the 1920s and '30s in his long-running program, The Big Broadcast.
"The Big Broadcast was a pretty unusual show, content-wise, over 35 years ago. It's almost unique today," Conaty observes. "I haven't heard any other program that blends classic jazz with the pop vocals and dance bands of the same period."
Link: Rich Conaty's The Big Broadcast Archives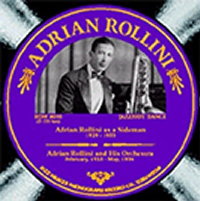 "I'm pretty typical of the people who listen to my shows," says Rich. The music is "strictly one piece of the puzzle. It's important to keep some balance."
This may be why fans of The Big Broadcast are so loyal. At least one listener claims never to have missed a show in more than 22 years. And when Conaty left WFUV in December 1992 "to see if The Big Broadcast would succeed on a commercial outlet," his loyal listeners followed. Despite his success elsewhere, however, Conaty found the working environment in commercial radio to be less than ideal, and by July 1997 he was delighted to return to the station where it all began. "I think the experience polished my act, but also gave me a deeper appreciation for 'FUV," he says.
---
The JimmieJazz Show
Jim Baldwin, known as DJ "jimmiejazz", hosts the "jimmiejazz" show on www.wool.fm in Bellows Falls, Vermont that focuses on 1920s hot dance and personalities of the period. This low-power community radio opened for broadcasting on 25 June 2005. Jim's show is on Thursdays, 1-3 PM Eastern.
Link: Jim Baldwin's Radio Show Archives
Explore and discover Jazz Age artists from Jim Baldwin's past radio shows available here on the Jazz Age web site. Scroll down the radio show list below and find the jazz personality that you would like to listen to. Click on the "Launch Player" button beside the jazz subject. A pop-up browser window will appear with a self-starting radio player. You may continue to browse the site while listening to Jim's show.

Each radio show is approximately 2 hours long and will feature 20 or more songs by the jazz artist. You may pause the player or stop and later advance the pop-up player by adjusting the slider buttons. Enjoy!