Updated 10-17-00
OLD RADIO
November 2000 Column
Return to the Old Radio home page.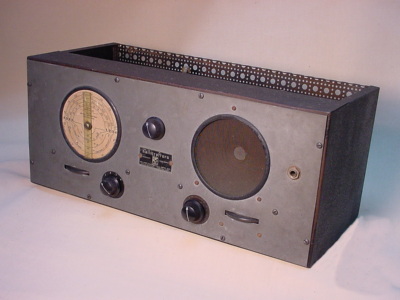 The First Hallicrafters, model S-1
One of the best known and respected names in ham radio is Hallicrafters. Founded in 1932 by William J. Halligan, the company name was chosen as a composite of the two words: "Halligan" and "handcrafted". "Handcraft Makes Perfect" was the first logo of his enterprise.
First announced in the April 1934 issue of "Radio News," the "S-1 Skyrider" sold for $39.95, about the same price as popular kit radios. A few were built in small production runs of fifty or a hundred sets. Each one was handcrafted and signed by the assembler.
The S-1 introduced several new innovations into ham radio receivers. Most receivers up until now had plug-in coils. While not the "very first" radio to have this, the S-1 featured band switching. Four positions covered from 1.6 to 22 mhz.
The photos below show the receiver as-found with only a quick brushing.

Found in an old shead, it had the usual dirt, dust and
mouse nests. This is the inside after a quick brushing.
Note the two sets of four coils with shielding between.

This is the under side. It faired much better than the the
top side, it's much cleaner. All the componets are original
except the power cord. Note the band switch.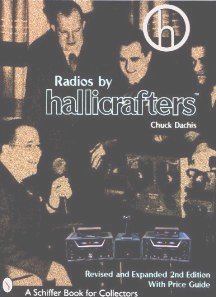 My thanks to Chuck Dachis, author of "Radios by Hallicrafters," for his personal help with the history of this radio and the Hallicrafters company.
Radios by Hallicrafters is the definitive work on the Hallicrafters Co. and its products. With over 220 pages, more than 800 photograps (many in color) showing every know Hallicrafters product to date, it is 13 years in the making. It is an essential tool for the collector or anyone interested in the Hallicrafters Co. and its products.
Click here to visit Chuck Dachis' "The Hallicrafter Collector" web page.


---
John Dilks, K2TQN

125 Warf Road, Egg Harbor Township, NJ 08234-8501

e-mail: K2TQN@arrl.net
---